June 6 from 10-12
THIS EVENT IS CANCELLED.
Due to anticipated low attendance, we have to cancel this community service event. :(
Related Events

Cancelled: Meadow Clean Up at the Watershed ( Saturday, June 6, 2015 - 10:00 AM to 12:00 PM )


Posted by Princeton AAA about 7 years ago.
More
---
Princeton AlumniCorps is looking for Volunteers
Princeton AlumniCorps is looking for alumni and friends who want to apply their skills toward an innovative nonprofit project. Organizations throughout the northeast are turning
to AlumniCorps for passionate and experienced volunteers who want to further a cause that is personally meaningful and socially significant.
Apply today
to share your story with us and we will connect you with an organization that values your perspective,
utilizes your talent, and creates positive change for others. Innovator projects are skills-based, pro bono opportunities that last 2-6 months. Now is the time to put your skills to work in a new way.
Application review begins Monday, April 20th.
Posted by Princeton AAA about 7 years ago.
More
---
Princeton TruckFest 2015
The Community Service Inter-Club Council (CSICC) will reprise Princeton TruckFest, its signature fundraising event, on Saturday, April 25, 2015, from 2-6 pm on Prospect Avenue. Last year's inaugural TruckFest raised $21,899.52 to benefit Send Hunger Packing. This year, the CSICC has set a goal of $50,000, to be donated to Send Hunger Packing and Meals on Wheels of Trenton/Ewing.
Princeton Area Alumni are warmly invited to attend TruckFest.

The CSICC also seeks sponsors for TruckFest 2015. For information about sponsorship, please contact Catie Bauman '15 at cbauman@princeton.edu.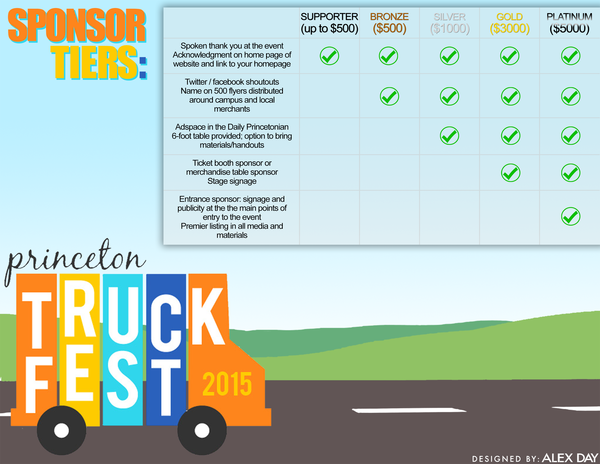 Posted by Arlen about 7 years ago.
More
---
Pre-Performance Reception for Romeo & Juliet at McCarter
Thursday, April 16
6:00 Networking Reception***
7:30 Performance
***Reception attendees will be entitled to 10% off their performance ticket price.***
Douglas Martin's acclaimed

Romeo and Juliet

comes to McCarter Theatre on April 16!




Romeo and Juliet

McCarter Theatre

April 16, 2015

7:30pm


To Redeem: Call McCarter Theatre 609.258.2787 (ARTS) or click here.

Ticket office:

91 University Place

Monday-Saturday 10:00am-6:00pm

Sunday 11:00am-6:00pm

6pm until the performance on April 16
Join us before the show in the McCarter Theatre lobby!
Networking reception for young professionals (ages 21-39)
an ARB Premiere Partners program event
co-hosted by
Princeton Area Alumni Association
6:00pm in the theatre lobby
Light hors d'oeuvres, sponsored by Main St. Catering
Cash Bar
This pre-performance reception will offer unique opportunities for young professionals to meet Princeton Area Alumni Association members - potential mentors from a variety of professional fields!
Admission for this reception will be $35. A portion of the proceeds will go towards PA3's internship fund for ARB's annual summer intern from the Princeton Internships in Civic Service program.
For more information or to RSVP, contact Kristine Farmer, Development Coordinator:
732.249.1254 x11
Related Events

Pre-Performance Reception at Romeo & Juliet ( Thursday, April 16, 2015 - 6:00 PM to 7:30 PM )
Location: McCarter Theater


Posted by Princeton AAA over 7 years ago.
More
---
Presidents' Day Community Service
February 16, 2015: A baker's dozen alumni, spouses and kids gathered in Frist for a morning of family-friendly activities to benefit local non-profits. Participants included alumni from the classes of '65 through '07, as well as several children of alumni. The group...
Made personal care kits for Anchor House, an organization that provides temporary, full-time care to children who are removed from their parents' care.

Dec

orated cards to go with Girl Scout cookies to be sent to overseas US Troops as part of Operation Taste of Home, a Girl Scout USA initiative.

Prepared

30 bagged breakfasts, 72 bagged lunches, 100 sets of utensils, and 20 hygiene bags for the Trenton Area Soup Kitchen (TASK).
Related Events

Presidents' Day Community Service ( Monday, February 16, 2015 - 10:00 AM to 12:00 PM )
Location: Princeton University
Cost: $5 for supplies


Posted by Princeton AAA over 7 years ago.
More
THIS PAGE WAS CREATED BY AND FOR THE PRINCETON AREA ALUMNI ASSOCIATION. INFORMATION ON THIS PAGE IS INTENDED FOR INDIVIDUAL COMMUNICATION OF A PERSONAL NATURE AMONG PRINCETONIANS. USE OF THIS INFORMATION FOR ANY OTHER PURPOSE IS STRICTLY PROHIBITED. THE PAAA IS SOLELY RESPONSIBLE FOR THE CONTENT ON THIS PAGE. ALTHOUGH WE MAKE EVERY EFFORT TO KEEP THIS INFORMATION ACCURATE, WE CANNOT GUARANTEE IT.